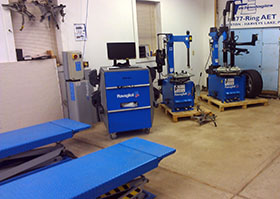 About AE Technologies Inc.
AE Technologies is an Automotive Equipment supplier with our office and warehouse located in Harveys Lake, Pennsylvania. For decades, we have been supplying the automotive industry with the highest quality products available anywhere in the world, specializing in Ravaglioli Wheel Service Equipment. We offer a wide variety of equipment such as:
Two Post, Four Post, Mobile Column Lifts and Scissor Lifts.
Automotive and Heavy Duty Tire Changers.
Automotive and Heavy Duty Tire Balancers.
Alignment Systems.
PA Emission Systems.
Smoke Machines.
Air Compressors.
Fully Reconditioned Pre-Owned Equipment.